After reviewing these descriptions, please click on to the order form, print it out, enclose your check payable to Wendy Lustbader, and send it to the address on the bottom of the form. Shipping is included in these prices. Washington State residents should add sales tax. THANK YOU.
<![if !vml]>

<![endif]>TAKING CARE OF AGING FAMILY MEMBERS $18

Filled with practical ideas to make care easier for both the giver and receiver.

This book contains many lists which make information clear and accessible, as well as a detailed index so that readers can go directly to the sections they need. There are chapters explaining Medicare and Medicaid, home care services, alternative housing arrangements, coping with depression, and how to support someone in a nursing home.
---
<![if !vml]>

<![endif]>COUNTING ON KINDNESS $16

Contains the secrets of dependency that ill people wish their caregivers knew.

Many books have been written in support of caregivers, but this is still the only book depicting the dilemmas of dependency from the point of view of the person needing assistance. This book offers the other side of the coin -- what it's like to receive care. Dependent people feel heard and caregivers gain fresh understanding.
---
A PRESCRIPTION FOR CAREGIVERS -- TAKE CARE OF YOURSELF $85 agencies; $30 private use

This 60-minute video is suitable for family caregivers as well as professionals. Wendy is addressing a group of caregivers, exploring the dilemmas of giving and receiving care. Laughter and tears accompany the stories Wendy tells, and the audience responds with many insightful remarks. Support groups say the video stimulates much helpful discussion.
---
KIND HANDS -- ASSISTING VULNERABLE ADULTS $85

In this 60 minute video, Wendy is speaking to a group of home health aides and CNA's who work in nursing homes. Part I covers the vulnerabilities which people tend to feel when they become dependent, and Part II covers the ways in which helpers may occasionally take advantage of those vulnerabilities. The aim is preventing abuse and promoting kindness.
---
<![if !vml]>
<![endif]>WHAT'S WORTH KNOWING $14


The real people you will meet in this book offer hard-won wisdom: the single most important piece of information each has gleaned through seventy, eighty, and ninety-plus years of living. Their firsthand experience of facing hardship, finding love, taking risks, and living without regret has been collected here, mined from the twenty years Wendy has spent learning from older adults and listening to their stories.
---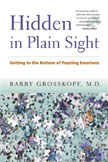 A BOOK BY BARRY GROSSKOPF: HEALING THE GENERATIONS has now been reissued as HIDDEN IN PLAIN SIGHT $16

Both pain and sorrow can be passed from one generation to another. A sorrow that had its origins in our grandmother's childhood may silently be influencing how we conduct our current relationships. This book explores how grief and trauma leave their imprints on the generations, unless we strive to truly understand our parents and their parents before them.
---
HEALING THE GENERATIONS $14
Two 60-minute CD's by Barry Grosskopf and Wendy Lustbader.
This workshop features Barry and Wendy teaching the central concepts from Barry's book. Topics include: Breaking Through Self-Centeredness, Childhood Lasts a Thousand Years, Flashback Mood States, Getting the Full Story From Parents, Building a Healing Relationship, and The Benefits of Living Well.
---